| | |
| --- | --- |
| ...and retailers are innovating to meet their expectations! | |

The turnover in the canned foods market in France
RETAILER STRATEGY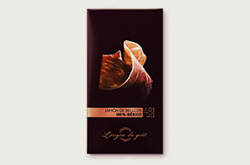 Leclerc will launch an ultra-premium private label brand: "L'origine du goût".
»
Monoprix launches its new Food to Go range for nomadic urbanites.
»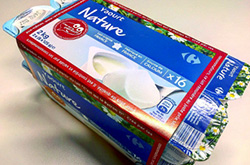 Carrefour committed to using C'est qui le Patron's milk in its unflavoured yogurt and cottage cheese.
»
The Canadian supermarket Sobeys launches Easy Meal
»

This is the expected global turnover in the e-commerce sector this year, up 17%. Asia represents more than half of that, with a 20% increase.
DISTRIBUTION CHANNELS: NEW SHOPPING EXPERIENCES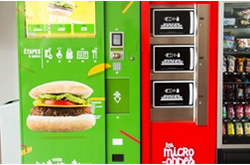 So Fast So Good has launched a new vending machine concept for hot sandwiches…
»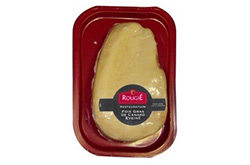 Rougié launches an online store for consumer
»

The turnover in the self-service cheese sector in France, which represents 528,000 tonnes vs 92,000 tonnes for counter sales.
CONSUMER TRENDS & DEVELOPMENTS IN
PURCHASING BEHAVIOR

of French people say they avoid certain categories of food, according to the results of IPSOS' 2017 survey of 2,000 French people for the Observatoire E. Leclerc des Nouvelles Consommations. 64% of French people avoid purchasing products containing palm oil, 52% avoid products containing aspartame or other sweeteners, and 53% avoid dyes or preservatives. 9% of French people say they avoid gluten, and 10% avoid cow's milk.
EXHIBITORS' NEW PRODUCTS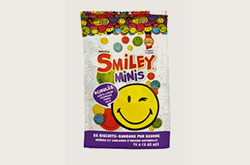 Biscuiterie de l'abbaye
Offers mini smiley face candy-cookies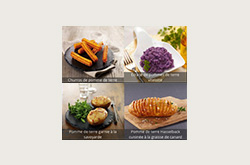 Cité gourmande
Offers potato-based products, including churros and mashed vitelotte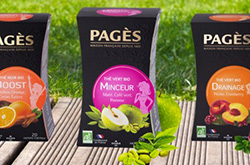 PAGÈS
Is a tea and infusions retailer located in Puy-en-Velay, in the heart of the Auvergne region. Offers a health and wellness range.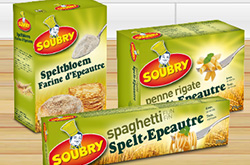 Soubry
Leader of the pasta market in Belgium. Among its new products is a range of spelt products: flour and pasta
Café Méo
One of its innovations is the Colombus Café range: Nespresso-compatible espresso pods with chocolate cookie, caramel salted butter…

Poco Loco
Snack foods
Tortilla and dips specialist. Among its new products: Snackbox with tortilla and cheese dip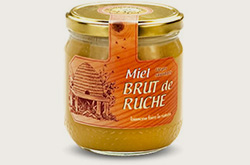 Naturalim
The honey specialist Naturalim offers raw honey directly from the hive.
INNOVATION PRODUCTS AND
INGREDIENTS WATCH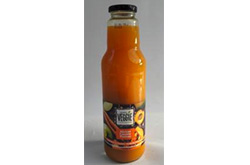 Carrefour's
private label brand, "Carrefour veggie, la cuisine végétarienne," now has three fruit and vegetable juices in the non-alcoholic beverages section.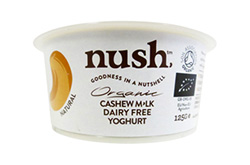 Nush Organic (UK) :
cashew milk yoghurt. Lactose- and dairy-free
Go Green (Norway)
has a beverage made with coconut milk and quinoa

Nongshim (South Korea) :
Potato chips coated with dark chocolate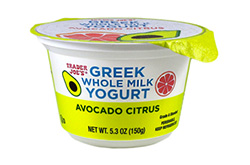 Trader Joe's (USA)
is launching an avocado and lemon yoghurt
NEW INGREDIENTS THAT ARE
RELEVANT TO INNOVATION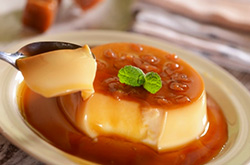 A seaweed extract for a creamy texture without the use of eggs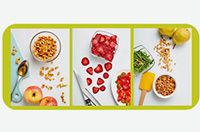 100% natural just-dried fruits
PACKAGING / PROCESS / TECHNOLOGY
Lesieur is launching a semi-rigid bottle with an applicator…
REGULATION AND CERTIFICATION WATCH
| | |
| --- | --- |
| # | The Senate plans to abolish the tax on mineral water |
| | |
| --- | --- |
| # | Nutriscore : graphical representation and specifications were set on Tuesday, 31st October |
| | |
| --- | --- |
| # | Towards a legal definition of vegetarian and vegan food by 2019? |

FOLLOW US ON SOCIAL NETWORKS
#MADEPARIS2018
GL EVENTS EXHIBITIONS
BP 223
47300 VILLENEUVE SUR LOT
FRANCE
To make sure that you don't miss out on any information from us, simply add our email address to your contact list. In accordance with the Data Protection Act of 6 January 1978, as amended, you have the right to access, rectify and delete any data concerning you by writing to: GL events Exhibitions 59 quai Rambaud 69002 Lyon. Unsubscribe